Products
>
$ 1,170.00
Golden Glow
Product Number:
FLP3693
Click on the Reviews tab below to Rate/Review this item.
Design, Function, Exclusivity. FERI brings a new important element that has always been absent in the world class designer handbags. FERI fashion design concepts are beyond just the highest quality materials and the latest fashion trends. FUNCTIONALITY is the focal point of all FERI designer lines and it is that important distinction that sets FERI's striking hand bags aside from the rest of the status quo luxury brands. As a Canadian designer all FERI handbags are also coated on the outside and inside with a special protective compound to combat against extreme weather. FERI for the exclusive you.
This elegant city purse is crafted with a golden leather. It is practical and comfortable ideal for every occasion. Very supple, its shape and storage space is FERI. It has deep storage area, bottom studs to protect the bag. The bottom of the bag is embossed with the FERI text. It has five inside flat pocket, phone holder, beautiful FERI lining with matching leather trim inside, large zipper compartment on the back of bag. FERI charms accessory. Size: 14" x 15" x 5.5" - Matching wallet also available.
---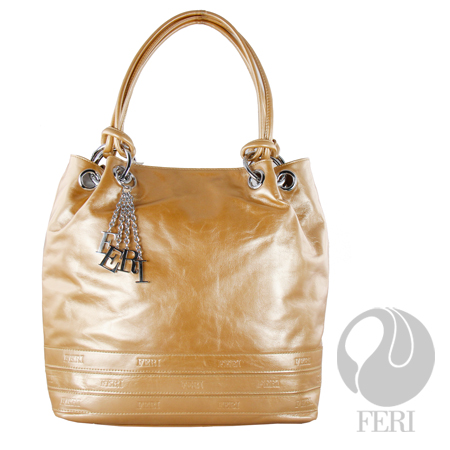 Please sign in to post comments/rate this product.
© 2005-2013, Global Wealth Trade Corporation. All Rights Reserved. (eng_can) z.(1)c |